We believe that excellent attendance and punctuality leads to better outcomes for pupils.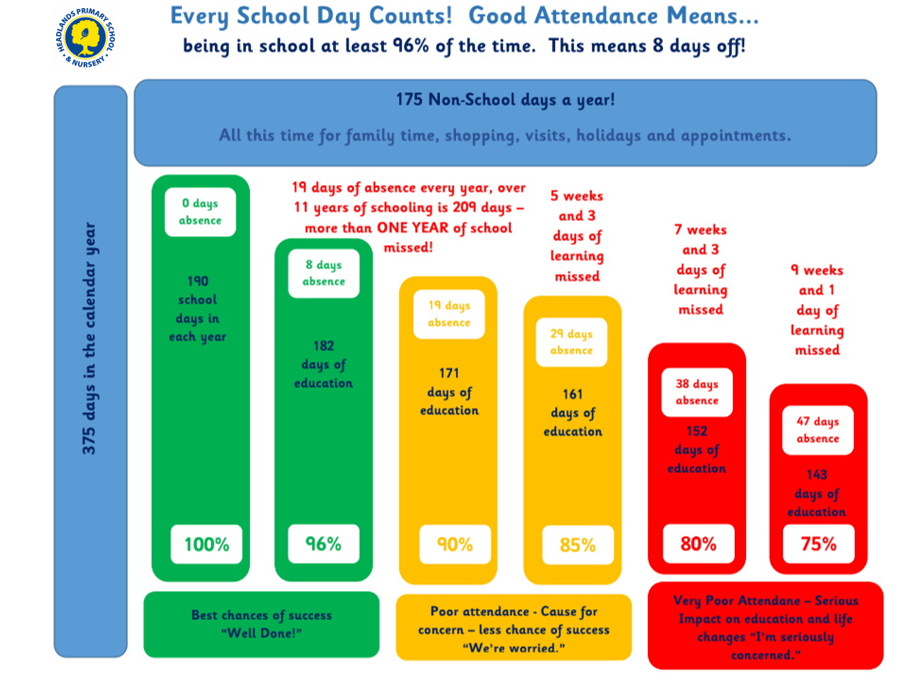 Absence
If your child is unwell and cannot attend school, you must inform the school office as soon as possible. As well as informing the school in person you also have the option to:-
Telephone the school on 01604 407098 by 9.00am and select option 1
Send a message via SchoolComms (if you are not registered for SchoolComms please speak to the school office)
When leaving your message please ensure you include your child's name, class and reason for the absence.
If your child will be absent because of a medical appointment, please inform the office prior to the appointment.
Owing to changes in Government legislation, schools are no longer able to authorise absence for family holidays. Recent guidance states that parents will be fined if their child is absent for 5 consecutive days. Please be aware that if you decide to take your child on holiday during term time you may be subject to a fine from the Northamptonshire County Council Education Entitlement Services team.
Lateness
It is extremely important that your child is in their classroom by 8.45am ready for registration. If your child arrives after that time you need to bring them immediately to the school office to sign them in.
To view our attendance policy please see below or for more information on attendance and behaviour support please click here.