The benefits of being a 'Reader' for education and life chances.
Children who read books often at age 10 and more than once a week at age 16 gain higher results in maths, vocabulary and spelling tests at age 16 than those who read less regularly. 
About half of illiterate adults live in poverty. They are less likely to be employed than those who can read.
Reading for pleasure is more important for children's cognitive development than their parents' level of education and is a more powerful factor in life achievement than socio-economic background. 
The benefits of being a 'Reader' for wellbeing.
Reading for pleasure enhances empathy, understanding of the self, and the ability to understand one's own and others' identities. Readers report having a stronger sense of belonging to society and being more likely to trust others. 
Regular readers for pleasure report fewer feelings of stress and depression than non-readers, and stronger feelings of relaxation from reading than from watching television or engaging with technology.  Adults who read for just 30 minutes a week are 20% more likely to report greater life satisfaction.
Reading for pleasure is also associated with better sleeping patterns, higher levels of self-esteem and a greater ability to cope with difficult situations. 
Children with reading difficulties are at greater risk of developing mental health problems later in life, including depression, anxiety, behavioural problems, anger and aggression.  Non-reading adults are 28% more likely to report feelings of depression than readers.
A child spends 900 hours a year in school but 7,800 hours at home – what you do at home matters. 20 minutes spent reading per day helps develop critical reading skills -Those that read the most, read the best.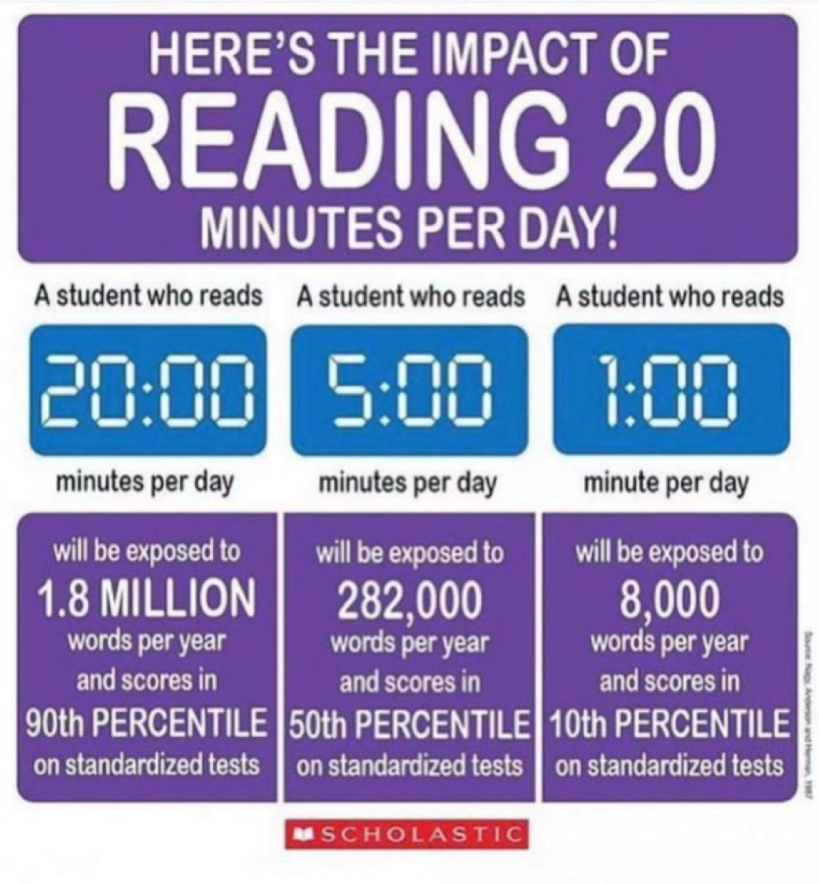 If you are interested to learn more about the importance of reading: https://readingagency.org.uk/children/
How can families help support their child's reading journey?
Have reading material lying around – books, magazines, newspapers, comics.
Family reading time can be any time – in bed, during breakfast, reading a recipe, board game instructions.
Try different types of reading – reading aloud to your child, taking it turns to read a paragraph each, reading separately but next to each other, reading to a family member or friend over Skype.
Find books that you both enjoy – reading should be fun not a chore.
Talk about books - what types of books do you enjoy? What do you not enjoy?
Talk about reading – compliment your child, ask questions such as what they think will happen next and who their favourite character is.
Turn on the subtitles – New research shows turning on the subtitles while watchign tv can double the chance of children becoming good readers.
If you would more ideas, please email Miss Kelly and she will be happy to lend you a copy of 'Help Your Child Love Reading'. Book Trust also has suggestions for all ages: https://www.booktrust.org.uk/books-and-reading/tips-and-advice/reading-tips/
Further Resources:
Here are some excellent links for free online reading and story opportunities:
A Book at Bedtime: https://www.youtube.com/watch?v=EPYD3Y0c9Mc
Authorfy: https://authorfy.com/masterclasses/ - authors read extracts, talk about their books and give creative writing activities.
BookTrust: https://www.booktrust.org.uk/books-and-reading/ - tips for reading with your child, activities ans story videos and BookFinder to help you choose your next book.
Borrowbox: https://www.borrowbox.com/ - anyone with a library card can borrow electronic books for free using this simple free app.