The children at Headlands Primary School are leading the way in caring for our planet.
We are working hard to become a more sustainable school through our Eco Curriculum, promoted by our staff and Eco Ambassadors.
Here is our Eco Code: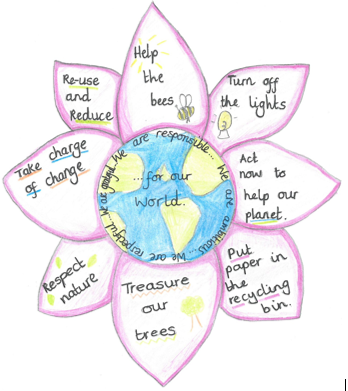 All children in the school will take part in a Geography curriculum that encourages learners to understand our impact on the planet. They will think innovatively about how to offset their footprint and adopt ideas that promote a positive Eco lifestyle.
In Year 1 - children are encouraged to grow and care for their own plants; promoting eco systems and natural habitats in our Eco space. They will also take part in litter picking in our local community.
In Year 2 - children look at how far food must travel to reach our plate; promoting locally sourced food to reduce energy waste. Children are also encouraged to grow their own plants and crops using their Scientific knowledge of plants.
In Year 3 - children learn about recycling, reducing and reusing, to reduce the amount of landfill waste. They promote reusing waste for planting and growing in the school's Eco space.
In Year 4 - children are taught about water pollution through their topic on rivers. They also learn about rainforests and the impact humans are having on them. From their learning, they promote a positive Eco change, by fundraising for the preservation of Orangutans.
In Year 5 - children learn about natural resources and what can be done to protect their sustainability.
In Year 6 - children learn about global warming and gain a topical environmental awareness. They then culminate their learning of their primary years by running a local eco campaign of their choice.
As well as this, pupils elected as Eco Ambassadors meet every Wednesday after school, to work collaboratively to plan, promote and participate in Eco activities for the school. Our commitment and efforts are helping us understand our footprint we leave on the planet and are supporting us to pursue and achieve our first Eco Schools Green Flag.
Keep an eye out on our school Facebook page to see updates from our Eco Ambassadors.